Working with your Vet
for the health of your pet
   All of us at Oliver's Dog Grooming and Day Care love your pet, we strive to treat them as our very own, and occasionally we may spot something that might concern us about your pet's health.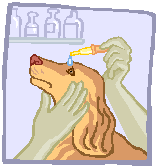 We created the Concern Cards for this reason.   It informs you of anything unusual and you can take this card with you to your veterinarian if you feel your pet's Doctor should see it.
   We want all of our clients and guests to remain healthy and happy.  In the event they aren't, we hope that we can help you to spot a problem early and they can get back to normal as quickly as possible.