WHY DOES IT TAKE SO LONG?
I am often asked "Just how long does it take to groom a dog anyway?" My usual response is "depends on the dog". It may seem to be a groomer's patent answer, but let me assure you it is not meant to be. Every day is different, and every dog is different. We can never be totally sure. Listed below is a rough guide line for your benefit but please keep in mind that your dog might need more time.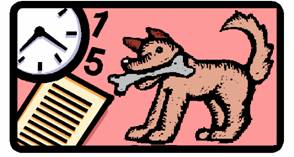 The following is based on a regular grooming day, the dogs coat is in good condition, the dog is in a good mood, and the dog has a medium length coat that is styled in a Teddy Bear Clip.
Those with special needs, matting, thicker or double coats may take longer.
At Oliver's we do not sedate animals, we do not rush them, and we most certainly do not put a dog through the grooming process who may be unwell, or stressing too much. If necessary we may have to break up the grooming appointment into two or three segments so as not to over stress the pet.
We strive for a "Humanity before Vanity" salon.